Hulda Clark Media Center
Hulda Clark published her books with the statement that anyone could reproduce her work, so the good word could be shared from friend to friend easily. Dr. Clark called her books her Gift to Humanity. To honor that spirit of generosity, HuldaClark.com offers free information in hope that it supports and builds the community of those following Dr. Clark's form of self-health. These educational resources on the groundbreaking research of Dr. Hulda Clark are available to you for free, without having to sign up or input an email address or do anything else. Bookmark this page so you can come back as often as you like. Download these FREE e-books and share these resources with your friends and family.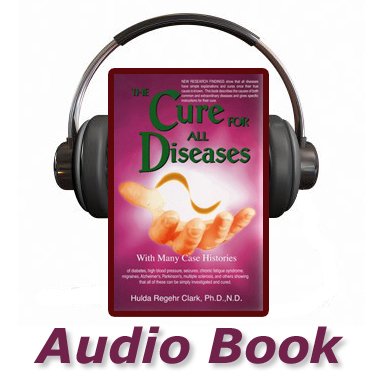 Listen to the FREE Audio Book: The Cure For All Diseases by Hulda Regehr Clark
Or download "The Cure For All Diseases" by Hulda Regehr Clark as an Audio MP3
Watch Hulda Clark Videos
The Cure documentary about Dr. Hulda Clark
This video has been transcribed in several languages in PDF format at:
HuldaClark.com/Die-Heilung.pdf
HuldaClark.com/La-Guarigione.pdf
How to Zap
Build It Yourself Hulda Clark Zapper Video Instructions by ClarkZapper.NET
Hulda Clark's Traditional Herbal Cleanse Recipes
Parasite Information
Recipes from Dr. Hulda Clark's book, "The Cure For All Diseases"
More